Will I now pay less stamp duty? And other questions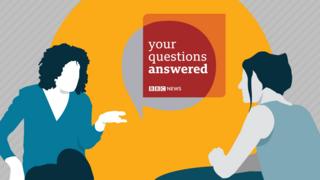 The chancellor has announced changes stamp duty, VAT, eating out and the furlough scheme.
So, how could you be affected?
Questions and answers
Latest questions
Your questions
My daughter bought a home last week and completes/moves on Thursday. Does the stamp duty change apply to her?

from Jan Everden in West Malling, Kent

Yes it does, as long as she is buying in England or Northern Ireland. The stamp duty holiday started on Wednesday and lasts until 31 March 2021.

The date of completion, which is when you can move into your new home, not exchange, when signed contracts are handed over, is the relevant one for stamp duty purposes.

We are due to buy a £585,000 house. Will we save any money on stamp duty?

from Rebecca Beauchamp

Kevin Peachey Personal finance reporter

Yes, you will not pay stamp duty for the portion under £500,000. The portion between £500,001 and £585,000 will still be taxed at 5%.

So, overall the bill will be cheaper under this temporary policy, as it will for many people buying in more expensive areas.

The idea is to get the whole housing chain moving. But questions have been raised because buyers of even the most expensive properties will benefit.

How will the stamp duty changes affect people who are buying property through shared ownership?

from Roopa Rajapaksha in Wandsworth, London

Kevin Peachey Personal finance reporter

Anyone buying through shared ownership effectively buys the property in stages, and often pays stamp duty in stages.

However, you do have the option to pay stamp duty in full up-front, based on the market value of the property, so in your case that would benefit from the temporary stamp duty holiday.

It is a choice for you.

My husband's company would get £1,000 for keeping him on until the end of January. What happens after that?

from Dianne Hill

How can we tell which restaurants will take part in the «50% off» scheme?

from Ray Clements in Northamptonshire

The government plans to put a list of participating restaurants, cafes and pubs on its website.

Businesses are also likely to let customers know via their websites, social media and email.

Those that want to take part in the scheme can register from Monday 13 July.

I have already paid for my holiday in a hotel. Can I expect money back as VAT has been reduced?

from Ian Brown in Lochgelly

Providers will probably not refund people who have already booked and paid, as the price was agreed at the time of sale.

Accountants say there may be some flexibility, but that will depend on the fine print of the policy, which we have yet to see.

Will my business – furnished self-catering holiday homes – benefit from the temporary VAT reduction?

from Marjorie Haynes

Kevin Peachey Personal finance reporter

Some small businesses pay VAT at a flat rate as part of schemes to reduce administration.

In guidance from HM Revenue and Customs, it says that some of these will be reduced to reflect the new temporary lower rate elsewhere.
End of Latest questions
Support bubbles
Your questions
When will people be allowed to resume physical contact with a loved one in a bubble scenario? I miss my boyfriend of 18 months as we live apart.

from Sue in Chester

If you and your boyfriend both live alone and in England, the good news is that from 13 June, you can form a support bubble, which means that you can spend as much as time as you want in each other's company, inside or outside a house. You don't have to keep a 2m distance from one another, and you can stay overnight at each other's house.

If you are living alone, and your partner is in a shared household (or vice versa), matters get complicated. You can still form a support bubble with your boyfriend but it will also be with his household, and it would be the only bubble allowed to that household.

What this means is that if one of your boyfriend's housemates has a partner who is – like you – living elsewhere and alone, that couple will be prevented from meeting up.

Support bubbles are for the benefit of people who are living alone (or alone with children). If both you and your boyfriend are living in shared households, you are not allowed to form one and you are restricted to meeting outdoors and at a distance of 2m from each other.

You cannot form a support bubble with your boyfriend if he lives in Scotland or Wales, although Northern Ireland has announced that it is also introducing support bubbles from 13 June..

Can I have my grandson overnight? I am a single grandparent living on the ground floor in my own house, however I have a lodger who lives on the second floor.

from Teresa

As a single grandparent, you will have the right to form a "support bubble" with your grandson and his family.

Under the government's new guidance, from 13 June your grandson would be able to stay at your home, including overnight, and would not need to keep a 2m distance.

However, the complicating factor here is your lodger. Are you maintaining a 2m distance from each other, and are you using separate rooms and facilities? If the answer is yes, then there should be no problem.

On the other hand, if you have been using the same kitchen, living room and bathroom, and eating from the same crockery and cutlery as your lodger, then you are both effectively part of the same household, and you do not qualify to be part of a support bubble.

If I have been on the vulnerable list, when can I have people in my house to sleep over and can I go to family to sleep over at their house?

From Karen Dowling in Birmingham

If you're clinically vulnerable and shielding, and you're living alone (or you're a single parent with children under 18), then from 6 July in England and Northern Ireland, you will be able to form a "support bubble" with one other household.

This means you'll be able to spend time in their house, and they'll be able to spend time in yours, and you won't need to keep a distance from one another. It also means you can sleep over at each other's home.

People who are vulnerable and shielding in Scotland and Wales are not yet allowed to form a support bubble and are advised to keep a social distance of 2m from other people wherever possible. From 1 August in England, shielding is to be suspended.
End of Support bubbles
What do I need to know about the coronavirus?
---
What questions do you have about coronavirus? Do you want to ask it on BBC News? Get in touch and we may ask you to send us a video of you asking your question.
In some cases, your question will be published, displaying your name, age and location as you provide it, unless you state otherwise. Your contact details will never be published. Please ensure you have read our terms & conditions and privacy policy.
Use this form to ask your question:
If you are reading this and can't see the form above you will need to visit the mobile version of the BBC website to submit your question or send them via email to YourQuestions@bbc.co.uk. Please include your name, age and location with any question you send in.