John Lewis and Boots to cut 5,300 jobs and shut shops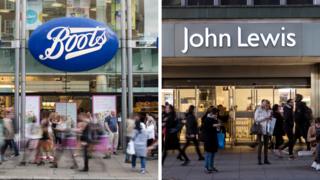 Two of the UK's biggest High Street retailers, John Lewis and Boots, have announced 5,300 job cuts.
Boots has said 4,000 jobs will go, while John Lewis is shutting down eight stores, putting 1,300 jobs at risk.
The moves come amid warnings that new economic support from Chancellor Rishi Sunak will not be enough to stop millions of workers losing their jobs.
Mr Sunak admitted that he would not be able to protect «every single job» as the UK enters a «severe recession».
Boots is consulting on plans to restructure head office and store teams and shut 48 Boots Opticians stores.
John Lewis said department stores in Birmingham and Watford will not reopen as the coronavirus lockdown eases. It also plans to shut down its At Home stores in Croydon, Newbury, Swindon and Tamworth and travel sites at Heathrow airport and London St Pancras.
The department store chain said it was acting to «secure the business's long-term future and respond to customers' shopping needs».
The announcements come a day after Chancellor Rishi Sunak unveiled a series of measures aimed at saving jobs, including a one-off £1,000 payment to employers for every furloughed employee retained to the end of January 2021.
The managing director of Boots UK, Sebastian James, described the latest cuts as «decisive actions to accelerate our transformation plan».
Most Boots outlets remained open throughout the lockdown to provide pharmacy and healthcare services, but the firm said footfall had «dramatically reduced».
'Uncertain outlook'
«These factors severely impacted comparable retail sales, which decreased 48% for Boots UK and 72% for Boots Opticians in the third quarter,» the firm said.
«Restrictions are beginning to lift, but with an uncertain economic outlook, it is anticipated that the High Street will take considerable time to recover.»
Boots said last year that it was reviewing the size of its UK operations with the possibility that up to 200 stores could be closed.
It said the eight stores affected were already «financially challenged» even before the pandemic struck.
However, Covid-19 had caused customers to move more quickly towards online shopping and away from stores.
John Lewis Partnership chairwoman Sharon White said: «Closing a shop is always incredibly difficult and today's announcement will come as very sad news to customers and partners.
«However, we believe closures are necessary to help us secure the sustainability of the partnership – and continue to meet the needs of our customers, however and wherever they want to shop.»
Ms White said John Lewis would do everything it could to keep on as many people as possible.
John Lewis had warned in March it could close shops as a plunge in profits forced it to cut staff bonuses to their lowest level in almost 70 years.
Jobless rise
Unions and analysts have warned that the virus could mean millions of people end up out of work, warning that government incentives to save jobs were not large enough to persuade bosses to keep workers.
Len McCluskey, general secretary of the Unite union, said: «With no modification to the jobs retention scheme, that dreaded October cliff edge for businesses and workers has now been set in stone.
«Our fear is the summer jobs loss tsunami we have been pleading with the government to avoid will now surely only gather pace.»
Vivienne King, chief executive at Revo, which represents the retail property sector, warned that 3million retail jobs remained in jeopardy unless the government undertook «a fundamental review of business rates and direct financial support to underwrite rents».
Airlines UK said the airline industry had also been left out of the chancellor's pans.
«Tens of thousands of jobs lost in aviation and a winter season where we're likely to see connectivity slashed,» a spokesman said.
«Something needs to give and if the government continues to ignore aviation we're going to see our regional airports with fewer connections and more jobs lost across aviation and aerospace.»
Chancellor Rishi Sunak himself told BBC Breakfast: «Is unemployment going to rise, are people going to lose their jobs?' Yes, and the scale of this is significant.
«We are entering one of the most severe recessions this country has ever seen. That is of course going to have a significant impact on unemployment and on job losses.»
John Lewis is the latest in a long line of companies to have made cuts during the pandemic. Other lay-offs announced include:
---
Do you work in any of the John Lewis stores which are due to close? How will you be affected? Email: haveyoursay@bbc.co.uk.
Please include a contact number if you are willing to speak to a BBC journalist.