UK economy shrinks record 20.4% in April due to lockdown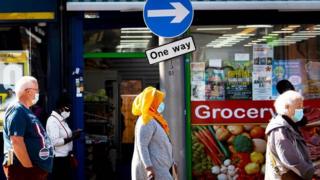 The UK's economy shrank by 20.4% in April – the largest monthly contraction on record – as the full impact of lockdown was felt.
The monthly decline was outlined in figures reported by the Office for National Statistics (ONS).
The fall is three times greater than the decline seen during the whole of the 2008 to 2009 economic downturn.
The ONS also published figures for the three months from February to April, which showed a decline of 10.4%.
«April's fall in GDP is the biggest the UK has ever seen, more than three times larger than last month and almost 10 times larger than the steepest pre-Covid-19 fall,» said Jonathan Athow, deputy national statistician for economic statistics at the ONS,
«In April, the economy was around 25% smaller than in February.
«Virtually all areas of the economy were hit, with pubs, education, health and car sales all giving the biggest contributions to this historic fall.
«Manufacturing and construction also saw significant falls, with manufacture of cars and housebuilding particularly badly affected.
«The UK's trade with the rest of the world was also badly affected by the pandemic, with large falls in both the import and export of cars, fuels, works of art and clothing.»
Deep recession
The UK's economy was already shrinking even before April.
It contracted by 2% in the first three months of 2020, as just a few days of impact from the virus pushed it into decline.
Economists expect an even bigger slump in the April-to-June period, plunging the country into a deep recession.
«Given the lockdown started to be eased in May, April will mark the trough in GDP. So we are past the worst,» said Andrew Wishart, UK economist at Capital Economics.
«But the recovery will be a drawn-out affair, as restrictions are only lifted gradually and businesses and consumers continue to exercise caution.
«And while the trough in activity is now behind us, the fiscal cost of the collapse and the rise in the unemployment rate to over 8% that will result are only just starting to emerge.»
Tej Parikh, chief economist at the Institute of Directors, said coronavirus had caused «unparalleled» economic turmoil which was «likely to scar the UK economy for some time yet».
«Having provided businesses life support, the government must now figure out how to stimulate activity,» he added.
«Waiting until later in the year to act will risk more businesses and jobs will be lost.»