'There will be a shortage of holiday cottages'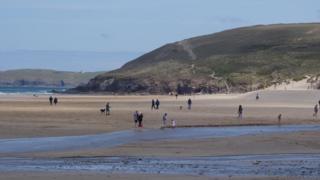 As English hotels and other forms of accommodation prepare to reopen on 4 July, there is a «frenzy» of appetite for holidays, says one listings site.
Sarah and Steve Jarvis, who run the Independent Cottages website, say traffic in the past week has been 150% up on the same time last year.
«We're very excited and very busy,» said Steve, adding that the lifting of restrictions on Tuesday was «very welcome news».
But he added that not all holidaymakers will get the accommodation they want.
«There will be a shortage of holiday cottages,» he told the BBC. «There are forward bookings to be honoured and there will be fewer properties available.»
Independent Cottages has more than 1,800 properties on its books, with more than 1,500 of them in England.
Unlike online travel agents, it does not take a percentage on bookings, but charges an annual listing fee and allows property owners to deal directly with holidaymakers.
Sarah said travel industry guidelines on coronavirus allowed holiday lets to cope with back-to-back bookings.
However, some holiday cottage owners were opting to leave two to three days between bookings to allow for thorough cleaning, further constraining the supply of accommodation.
«There's a lot to clean,» she said. «It's all very achievable, but some owners will feel that they want to leave a gap.»
One issue that is still unclear is the question of accommodation for stag and hen parties and other mass gatherings.
Such occasions can bring together as many as 18 to 20 people from different households, all using shared areas.
«We're being asked about this a lot,» said Sarah. «The 2m rule isn't much of an issue in a self-catering cottage. but we don't know how many households are allowed.»
Self-catering accommodation is ideal for helping people «ease back to a new normal» as lockdown restrictions are lifted, says another holiday provider, holidaycottages.co.uk.
The firm's chief marketing officer, James Starkey, welcomed the government's announcement, saying it gave would-be holidaymakers «something to look forward to».
«Self-catering accommodation by its very nature allows for natural social distancing, with people visiting holiday properties staying in self-contained units without having to use shared facilities,» he said.
«Our owners already adhere to high standards of cleaning, but all have now been provided with additional information on cleaning best practice for before and after a stay.»
'End of the tunnel'
Hotels, too, are busy preparing to open their doors to guests on 4 July.
Accor, which operates 270 hotels in the UK, says it will be reopening them gradually. It hopes to have 90% of them back in business by the end of August.
Those booking in will see plenty of changes. Restaurants and bars will be serving food and drink on a «grab-and-go» basis, while fridges in the rooms will not contain any mini-bar items.
Every other room will be unoccupied and rooms will be left empty for 24 hours after a guest checks out.
Thomas Dubaere, Accor's chief operating officer for Northern Europe, told the BBC Accor had been able to test its safety measures in other countries which had already eased lockdown.
He said guests were comfortable with the measures «as long as we keep good service and a friendly smile».
«They still get the service. It's just in a different way for the time being,» he added.
Mr Dubaere welcomed the government's moves to allow hotels to reopen.
«We're seeing the light at the end of the tunnel,» he said.
Can I book with confidence?
Domestic tourism will now most likely be operational in some form in all parts of the UK by 15 July – starting with self-catering in Northern Ireland from Friday.
Holidaymakers will still have some concerns, not least the possibility of a local or national spike in coronavirus cases over the summer.
Any new lockdown would mean a return to the refund or rebooking rights currently in place.
That gets more complicated if you are told, under the test and trace system, to self-isolate. Any refund rights would be subject to the terms and conditions when you book.
The traditional backstop of insurance (albeit less common among domestic travellers) may not help, unless you bought your policy months ago.
Coronavirus is no longer an unknown event, so anyone buying travel insurance now is unlikely to be covered for any coronavirus-related delays or cancellations.
Self-catering holiday accommodation will open again on Friday in Northern Ireland, and hotels will follow on 3 July.
A decision will be taken in Wales on 9 July on whether to open up the country to tourists again. If this is given the go-ahead, it's likely to take effect from 13 July.
The Scottish government has said that hotels and tourist accommodation may be able to reopen from 15 July at the earliest, if its next review of lockdown restrictions on 9 July decides that conditions are favourable.
UK Hospitality, which represents hotels and accommodation as well as other areas of the hospitality sector, said it greeted the government's relaxation of the lockdown restrictions in England «with relief and praise».
«The government has given due recognition to how hard hospitality has been hit by this crisis,» said UK Hospitality chief executive Kate Nicholls.
«Our sector was one of the first to be seriously affected and we are going to be one of the last to reopen.» However, she added that government support would remain crucial.
«Many businesses have been closed for months with no revenue and are now facing substantial rent and PAYE bills,» she said.
«We need financial help from the government, otherwise some of these businesses are going to go under right at the point at which they are allowed to open once again.»
Abta, the travel association, described the latest measures in England as «a step in the right direction on the road to restarting travel in earnest».
«However, the travel sector remains in a perilous state, with redundancies announced each week, and more needs to be done to help the whole sector recover,» it added.
«We need a more comprehensive roadmap as soon as possible that includes timeframes for relaxing international travel restrictions too, so businesses and customers can plan ahead.»