Coronavirus: Lockdown to be relaxed in England as 2m rule eased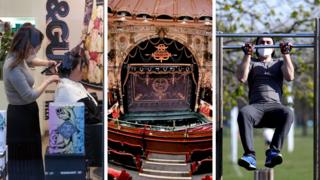 Pubs, restaurants, hotels and hairdressers can open from 4 July in England, when social distancing rules will be eased.
Prime Minister Boris Johnson said people should remain 2m apart where possible but a «one metre plus» rule will be introduced.
Two households in England will also be able to meet indoors and stay overnight – with social distancing.
The prime minister warned that all the steps were «reversible».
Scotland's First Minister Nicola Sturgeon, Wales' First Minister Mark Drakeford and Northern Ireland's Arlene Foster have said the 2m rule will remain in place in their nations for the moment.
Indoor gyms, swimming pools, nail bars and indoor play areas are among the list of businesses that will remain closed, as they have been since lockdown started on 23 March.
The meeting of households will not be exclusive but, unlike the bubble system, people will have to maintain social distance – so family members who live apart will not be able to hug.
Mr Johnson said people would be encouraged to use «mitigation» – such as face coverings and not sitting face-to-face – when under 2m from each other but «where it is possible to keep 2m apart, people should».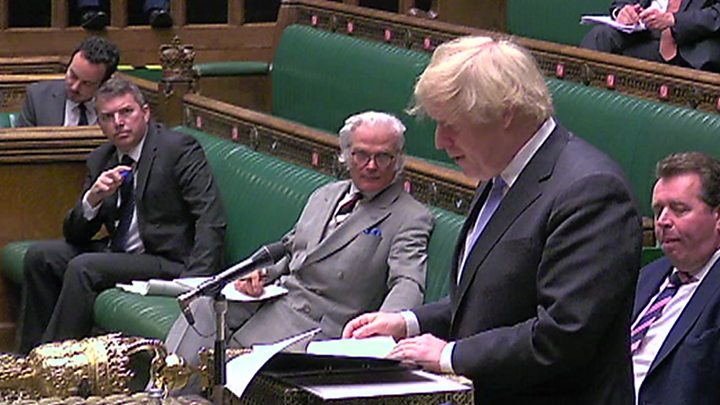 The prime minister said: «Our principle is to trust the British public to use their common sense in the full knowledge of the risks, remembering the more we open up, the more vigilant we need to be.»
The venues listed as being able to reopen include:
Pubs, bars and restaurants but only with a table service indoors, and owners will be asked to keep contact details of customers to help with contact tracing
Hotels, holiday apartments, campsites and caravan parks but shared facilities must be cleaned properly
Theatres and music halls but they will not be allowed to hold live performances
In other changes weddings will be allowed to have 30 attendees, and places of worship will be allowed to hold services but singing will be banned
Hair salons and barbers will be able to reopen but must put protective measures, such as visors, in place
Libraries, community centres and bingo halls
Cinemas, museums and galleries
Funfairs, theme parks, adventure parks, amusement arcades, skating rinks and model villages
Indoor attractions where animals are exhibited, such as at zoos, aquariums, farms, safari parks and wildlife centres
Mr Johnson said the government could not open everything at the same time and said «difficult judgements» had to be made.
What cannot open from 4 July?
The following places will remain closed by law
Nightclubs and casinos
Bowling alleys and indoor skating rinks
Indoor play areas including soft-play
Spas
Nail bars and beauty salons
Massage, tattoo and piercing parlours
Indoor fitness and dance studios, and indoor gyms and sports venues/facilities
Swimming pools and water parks
Exhibition or conference centres – other than for those who work for that venue.
Read more detail on how lockdown measures are easing in England here.
Mr Johnson said that the announcement meant «our long national hibernation is beginning to come to an end».
Labour leader Sir Keir Starmer said he welcomed the statement overall, adding «I believe the government is trying to do the right thing and in that I support them».
He added he thought it was «safe for some children to return to school» and he urged clarity over getting all children back to school safely.
Restrictions have to lift at some point. The big question is whether the UK is moving too soon.
The number of infections has fallen dramatically.
There are now just over 1,000 new cases a day on average.
That compares with an estimated 100,000 at the peak at the end of March – we don't know the exact figure because there was limited testing in place.
Huge progress has, therefore, been made.
But the number of infections is still significantly higher than other countries.
France and Germany are seeing fewer than half the number of infections that the UK is (and Germany has a larger population), while Italy has fewer than a quarter.
It is why there are plenty of experts, including former government chief scientific adviser Sir David King, voicing concern that restrictions are easing too quickly.
But, of course, not lifting them comes at a cost too – to the economy, to people's health and wellbeing and to wider society.
At the end of the day it is a finely balanced judgement call.
We will only know whether it was the right one or not in the weeks and months to come.
The changes to social-distancing guidance come after appeals from the hospitality industry and Conservative MPs.
Current evidence suggests being 1m apart carries between two and 10 times the risk of being 2m apart, scientists advising the government say.
According to UK Hospitality 2m distancing would see, on average, venues trading at 30% capacity, whereas 1m would put it up to 70%.
Mr Johnson said it was each nation's own responsibility to make their own lockdown restrictions but said all parts of the UK were now «travelling in the same direction».
Ms Sturgeon said she expected to receive expert guidance on whether it was possible to amend the 2m distance by next Thursday.
Mr Drakeford said his government would keep the figure under constant review but no changes had been made.
In Northern Ireland, where hotels, bars, restaurants and cafes are set to reopen from 3 July, Economy Minister Diane Dodds has said she is open to changing it. Schools will be able to follow 1m social distancing measures when they reopen in August.
Downing Street has said it will bring an end to daily press briefings from today with data to be published online.
It comes after the prime minister said he did not believe there was «a risk of a second peak of infections that might overwhelm the NHS».
He highlighted a further decline in the seven-day rolling average of deaths, and championed an increase in testing – now totalling over 8 million since the beginning of the pandemic.
BBC political editor Laura Kuenssberg said: «This is not a return back to normal business, but it is a very big moment, and a step to a new normal.
«One important point to note though, as I understand it, the advice from the government will still be that people should work at home if they can.»
Wetherspoon chairman Tim Martin said: » We are extremely pleased that pubs are reopening on 4 July after a long hiatus.
«We are going to discuss the precise government proposals with our pub managers and staff before we comment further on the details.»
UK Hospitality chief executive Kate Nicholls said: «Getting venues open again, even with social distancing measures in place, is the best way to secures businesses and jobs.»
But she warned while many businesses would endeavour to reopen the capacity constraints caused by social distancing would mean some were unviable and government support remained «crucial».