Coronavirus: Result of 2m social distancing review 'to come next week'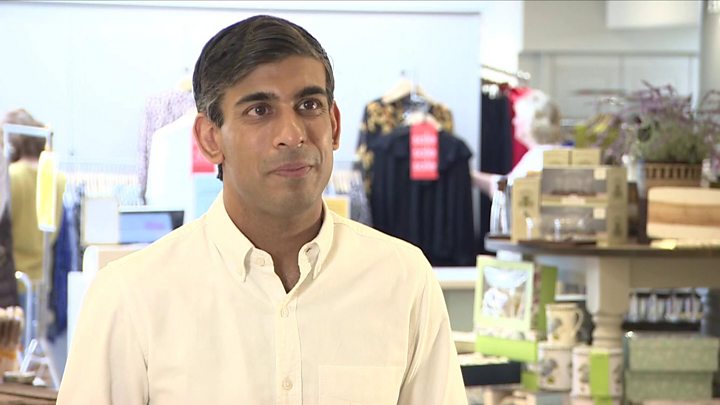 Ministers will announce in the coming week whether the 2m social distancing rule in England will be relaxed, Chancellor Rishi Sunak has said.
The government has been reviewing the advice, amid warnings many businesses will not survive under current rules.
Mr Sunak said the outcome of the review will «make an enormous difference» to businesses «keen to see a change».
The government has said it hopes to reopen pubs, restaurants and hotels from the beginning of July, if safe.
It has yet to give a definitive date for the hospitality sector, but ministers are preparing to ease more coronavirus lockdown restrictions on 4 July.
Speaking on a visit to shops in North Yorkshire, the chancellor said although the review was yet to be completed, it was «something that will make an enormous difference, I think, to many businesses who are keen to see a change».
The government has faced pressure from leaders of the hospitality sector and its own MPs to lessen the 2m rule, with widespread concerns around the impact it would have on the UK economy.
Mr Sunak said he was «very understanding of the calls for action on that, particularly for our hospitality industry, for our pubs, for our restaurants».
His comments came after a raft of measures reported in the Times revealed how parts of the hospitality sector could look significantly different compared to pre-lockdown.
Pubs could be patrolled and people could be encouraged to use apps to order drinks, according to the newspaper.
Meanwhile, the Department for Health and Social Care announced a further 128 people had died after testing positive for Covid-19, bringing the UK total to 42,589.
Prime Minister Boris Johnson commissioned the review on 14 June, saying there was «margin for manoeuvre» in the 2m social distancing rule as the number of coronavirus cases falls.
The other nations of the UK have not announced any plans to change the 2m distance.
Scotland's First Minister Nicola Sturgeon has said she is looking at the evidence, and Northern Ireland's Economy Minister Diane Dodds has said she is open to changing it.
A coronavirus adviser to the Welsh government said the risk in reducing the distance «isn't very big».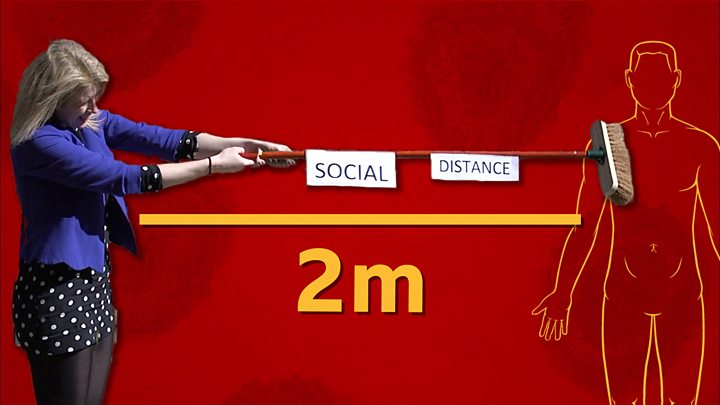 Earlier, Culture Secretary Oliver Dowden told BBC Radio 4's Any Questions that the government's review of the 2m rule will be «concluding shortly, within the coming days».
Other new measures for the hospitality sector reported in the Times include:
Drinkers could be asked to order via an app rather than going to the bar
Staff could patrol to enforce social distancing
Tables at restaurants might not be set in advance
Room service in hotels could be left outside the doors to guests' rooms
Kate Nicholls, CEO of UK Hospitality, told BBC Radio 4's Today programme that the guidelines seen by the industry involve businesses carrying out their own risk assessments, rather than a one-size-fits-all approach for «everything from a burger van in a park to the Fat Duck in Bray».
Ms Nicholls said a third of pubs and restaurants could not reopen with the 2m rule in place, although all hotels could. But reducing it to 1m meant rather than generating 30% of normal revenue and losing money, businesses could break even at 70% of normal revenue.
«Every day we have delay and uncertainty about that opening date, the industry is haemorrhaging cash and jobs and livelihoods are at risk,» Ms Nicholls said.
The UK government currently advises people to stay 2m (6ft 6in) apart from others to avoid spreading coronavirus.
The World Health Organization recommends a distance of at least 1m (just over 3ft), but the UK government's scientific advisers say that being 1m apart carries up to 10 times the risk of being 2m apart.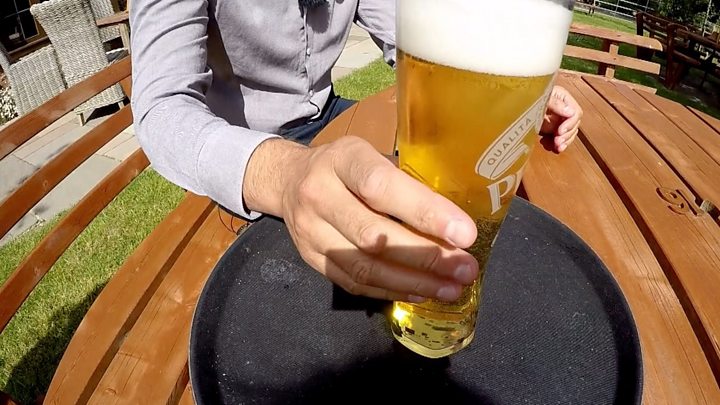 Prof Calum Semple at the University of Liverpool, a member of the government's Sage scientific advisory group, said he had changed his personal view on the need for social distancing because there were now «low levels, and sustained low levels, of transmission throughout the country».
He said 2m was still safer than 1m, but it was «now a reasonable political decision to relax these rules» and to open businesses where the 2m rule is harder to maintain, as long as there are other precautions in place.
If the UK faces a second wave of infections, Prof Semple said it might consider imposing social distancing rules on a regional basis, with different requirements for London compared to Carlisle, for example.
Some bars, restaurants and pubs say they will be unable to make a profit if the 2m guidance is still in place when they reopen.
Tourism firms have also warned of tens of thousands of job losses unless the distance is shortened.
The coronavirus alert level was downgraded from four to three on Friday. Under level three, the virus is considered to be «in general circulation» and there could be a «gradual relaxation of restrictions» – whereas in level four transmission was considered to be «high or rising exponentially».
On the day, the government announced that all pupils in all year groups in England will go back to school full-time in September, alongside a £1bn fund to help England's pupils catch up with learning.
There are separate rules for managing the threat of coronavirus in England, Wales, Scotland and Northern Ireland.
---
How have you been affected by the issues relating to coronavirus? Share your experiences by emailing haveyoursay@bbc.co.uk.
Please include a contact number if you are willing to speak to a BBC journalist. You can also contact us in the following ways: