Coronavirus: More than a quarter of UK workers now furloughed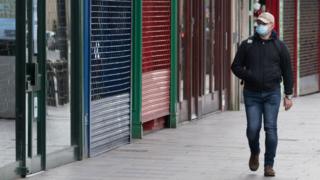 Some 300,000 more UK workers have been furloughed in the past week, raising the total to 8.7 million since the start of the coronavirus crisis.
That means more than a quarter of the workforce is now being supported by the £14bn-a-month scheme.
Another 200,000 self-employed have taken up government grants, meaning 2.5 million have been handed out.
Meanwhile businesses have borrowed more than £31bn in government-backed loans to help survive the crisis.
Last week, the schemes were extended to October by Chancellor Rishi Sunak.
The jobs retention scheme was introduced in March to mitigate the effects of coronavirus.
It allows employees to receive 80% of their monthly salary up to £2,500.
Some £17.5bn has now been claimed by more than a million firms under the scheme, up from £15bn last week, government figures show.
Last Friday, the government confirmed that furloughed workers would continue to get 80% of their pay until the end of October, but by then a fifth of their salary will have to be met by employers.
«Then, after eight months of this extraordinary intervention of the government stepping in to help pay people's wages, the scheme will close,» Rishi Sunak said.
The scheme is expected to have cost a total of about £80bn by the time it is shut down.
But Labour's shadow chancellor Anneliese Dodds warned last week about job losses when the government support schemes end.
«It is concerning that there is no commitment within these plans for support to only be scaled back in step with the removal of lockdown,» she said.
Self-employed grants
The Self-Employed Income Support Scheme pays a one-off grant of up to £7,500 amounting to 80% of average three-month profits.
The 200,000 additional claims for that in the past seven days has cost the government £400m, to bring the total paid out to £7.2bn.
Last week, the government confirmed that eligible self-employed workers would receive a second three-month payment under the scheme.
However, it is slightly less generous, covering 70% of the applicant's average monthly trading profits.
It will also be made in a single payment, covering three months and capped at £2,190 a month, or £6,570 in total.
People whose work has been affected by coronavirus will still be able to apply for the lump sum until 13 July.
Nearly 750,000 businesses have been approved for loans from coronavirus programmes worth more than £31.3bn, government figures show.
Low interest bounce-back loans of up to £50,000 guaranteed by the government account for the majority.
Almost 700,000 companies have been approved for £21.3bn-worth of bounce-back loans.
There were an extra 91,000 granted in the past week, with a total value of £2.8bn.
Meanwhile more than £8.9bn has been lent to nearly 46,000 companies under the coronavirus business interruption loan scheme (CBILS).
In the last seven days almost 3,000 CBILS worth a total £770m were approved.
Some £1.1billion has been lent to 191 companies through a similar scheme aimed at larger businesses, called CLBILS.
In the last week around £300m was borrowed under the scheme by 37 bigger businesses.