UK inflation rate falls to fresh four-year low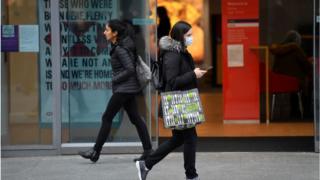 A record fall in fuel prices, including petrol, pushed the UK's inflation rate down to 0.5% in May, the second full month of the coronavirus lockdown.
Fuel prices declined by 16.7% during the month, the Office for National Statistics (ONS) said, dragging the Consumer Prices Index (CPI) to the lowest level since June 2016.
Clothing and footwear prices also fell.
Meanwhile, supermarkets were among the few shops allowed to open and food prices rose, the ONS said.
May's inflation rate was down from 0.8% in April, the first full month of the pandemic lockdown.
Clothing and footwear prices fell 3.1% amid heavy discounting.
'I'm keeping my fingers crossed'
Rising prices are certainly not something Cristina Bruzzolo needs to worry about the moment. The lockdown has devastated sales, and what matters is the level of price cuts she must make in order to sell her goods.
She owns Colibri Boutique, a high-end women's clothes shop in north London. Monthly sales would normally be about £40,000, but have fallen to about £10,000, she says. «We were hurt, but we are managing to cover our costs.»
Ms Bruzzolo has been discounting by a hefty 20%-30%, a small but illustrative example of why inflation has been falling. She's had to be inventive in order to make sales, including using Zoom video calls to show customers clothes and then take items to their homes so they can try before they buy.
«The stock for this season has already been paid for,» she said. «I need to generate cash flow to pay for next summer's stock.»
But Ms Bruzzolo is expecting another big sales hit in the autumn when the furlough scheme ends and, she fears, many people are made redundant. Further discounting is likely, which, as economists might tell you, is a form of deflation.
And with the High Street competition in a similar predicament, she sees little prospect of being able to raise prices any time soon. «There is more stock on the market, and so much more discounting.»
Nevertheless, while Ms Bruzzolo is pessimistic about the near term, she's optimistic about the long-term future.
«It's going to be a very tough year, probably even two years,» she says. But she's survived previous downturns and believes that, with good cost-control and some good luck, she'll survive this one. «I'm keeping my fingers crossed,» she says.
Pump prices
«The growth in consumer prices again slowed to the lowest annual rate in four years,» said ONS deputy national statistician for economic statistics Jonathan Athow.
«The cost of games and toys fell back from last month's rises, while there was a continued drop in prices at the pump in May, following the huge crude price falls seen in recent months.
«Outside these areas, we are seeing few significant changes to the prices in the shops.»
The ONS admitted that it had difficulty compiling inflation statistics for May, since many areas of the economy were completely shut down.
For instance, inflation figures for holidays had had to be «imputed», it said.
CPI remains below the Bank of England's 2% target for inflation.
Inflation is one of the main factors that the Bank of England's Monetary Policy Committee (MPC) considers when setting the «base rate». That influences what interest rates banks can charge people to borrow money, or what they pay on their savings.
Interest rates are currently at 0.1%, the lowest level in the Bank's 325-year history.
«May's further fall in inflation is probably only the beginnings of a prolonged period of very soft price pressure,» said Paul Dales, chief UK economist at Capital Economics.
He added that MPC members were expected to opt for more stimulus measures to boost the economy at their policy meeting on Thursday.
What is inflation?
Inflation is the rate at which the prices for goods and services increase.
It's one of the key measures of financial wellbeing because it affects what consumers can buy for their money. If there is inflation, money doesn't go as far.
It's expressed as a percentage increase or decrease in prices over time. For example, if the inflation rate for the cost of a litre of petrol is 2% a year, motorists need to spend 2% more at the pump than 12 months earlier.
And if wages don't keep up with inflation, purchasing power and the standard of living falls.