Tui: Holiday bookings for next summer jump 145%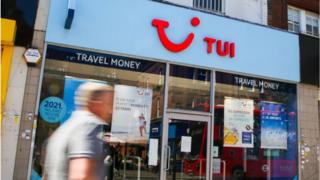 Travel firm Tui has seen a sharp jump in bookings for 2021 as customers make early plans for next year.
The UK's largest tour operator said bookings for next summer were up by a «very promising» 145%.
News of a bounce-back came as Tui posted a €1.1bn (£995m) loss for the three months to June as lockdown brought the travel industry to a halt.
Tui's travel operations restarted in Europe, Mexico, the Caribbean and Egypt in mid-May.
Some of the new holiday bookings for 2021 are either amended bookings or holiday voucher bookings made by customers whose trips were cancelled as a result of the coronavirus lockdown.
In late July, Tui said it would shut 166 High Street stores in the UK and Ireland. Bookings plunged 81% for this summer and are 40% lower for a scaled-back winter programme.
And the industry's hopes of saving the rest of this summer were dealt a blow with new restrictions travel to Spain, and growing worries that France could be put on a quarantine list.
But Tui said on Thursday it was now seeing «encouraging signs of customer demand» as travel restrictions globally start to ease.
Some travellers who have skipped holidays this summer or opted for staycations have said they intend to splash out on foreign breaks this Christmas and next summer.
Last month, travel firm Kuoni said bookings for December departures to Barbados were 30% up on the same point last year, while demand for the Maldives has increased by 20%.
Tui also said it had agreed compensation with aircraft maker Boeing over the prolonged grounding of 737 Max planes.
The travel firm is to receive «staggered» compensation over the next two years, credits against future orders and a deferral of 61 aircraft deliveries. The exact amount of compensation has not been disclosed.
Raising funds
Tui also said on Thursday it had raised more money to help it weather the coronavirus crisis and cope with the winter, when travel bookings typically drop.
The Germany-based travel firm said it had agreed a second loan package with the German government worth €1.2bn, which would give it a total cash flow of €2.4bn.
At the same time, Tui said it was also looking to cut costs by 30% across the firm.
Julie Palmer, partner at Begbies Traynor, said it will be a «difficult path to recovery» for the travel industry.
«The travel giant has been forced to put its hand out for a bailout from the German government to help stay afloat, but it will need to address the concerns that consumers will have when travelling again, while trying to offer a unique experience amidst social distancing measures if it's going to stand any chance of recovery,» she said.
«Costs reductions must be a focus for the board over the next few months if the business is to have any chance of survival, which will likely add to the growing number of redundancies being made by UK firms.»
Tui and other firms were this week criticised by consumer group Which? for being slow to refund travellers for flights and package holidays cancelled since March.
And in July, the airline regulator, the Civil Aviation Authority (CAA), said it was «not satisfied» that Tui, Virgin Atlantic and Ryanair were processing refunds quickly enough.
Which? said that despite the intervention from the CAA, refunds are still too slow and airlines are «falling short» of promises made to the regulator.