Primark presses ahead with new store openings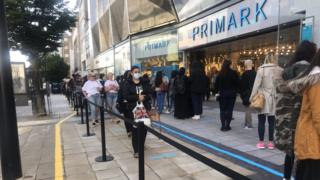 Primark is going ahead with plans to open five new stores in the US, France and Poland, despite economic uncertainty over the coronavirus.
It comes as other High Street brands cut costs and lay off staff.
The latest update from Primark owner AB Foods revealed the full impact of the lockdown on trade, with Primark's sales down 75% in the past quarter.
Now though, all but eight of Primark's 375 stores are trading again.
Since reopening, Primark shoppers have been buying up children's wear, leisure clothes and night wear. Summer fashion items such as shorts and T-shirts are also in high demand, while sales of men's formalwear and travel-related goods are down.
Eager customers lined up outside Primark stores on the day they reopened in England in mid-June.
That pent-up demand resulted in strong trade at the tills: the company has reported it sold more in the week ending 20 June than it did in the same week last year, across the UK and Ireland.
Primark says stores in regional areas and retail parks are doing well, but city centre stores continue to suffer from a lack of tourists and much lower footfall.
Nonetheless, the chain is optimistic about the next few months and has placed orders worth more than £800m for the coming autumn/winter season.
Primark's new US stores are planned for New Jersey and Florida, although the company says retail restrictions due to Covid-19 may push back their opening dates. The new openings will bring the total number of US stores to 11.
In France, Primark will be opening in the Belle Epine and Plaisir shopping centres in Paris. The company is also set to open its first new store in Poland, in the capital, Warsaw. In the coming months, Primark will also expand existing stores in Malaga and Lisbon.
Primark was hit particularly hard by the lockdown measures, as it does not have an online store or offer click-and-collect services for its products. That meant it was missing out on £650m of sales a month.
Commenting on the financial results, Emma-Lou Montgomery from Fidelity Personal Investing said: «Primark's full-year sales are expected to be a third of what they were last year, coming in at between £300m and £350m, but that's really no surprise when all 375 stores had closed by 22 March.
«The absence of an online shopping site didn't help and will have held it back when compared to its competitors. But as we have seen, with queues forming from 05:00 on reopening day – open the stores and shoppers will come,» she said.
Primark's move to expand its global empire is in contrast with moves made by other retailers battling tough economic conditions brought on by the coronavirus outbreak.
This week, John Lewis announced it would be closing stores and cutting an unconfirmed number of staff, while Harrods, TM Lewin and Topshop's owner Arcadia announced hundreds of job cuts.