Jet2 tells some holidaymakers in Spain to come home early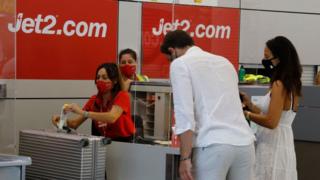 Jet2 is contacting some customers on Spain's Balearic and Canary Islands to ask them to end their package holidays early, the BBC has learned.
Hundreds of customers have had flights back to the UK cancelled and been asked to return sooner than planned.
Jet2 said it cannot afford to keep sending empty planes to pick up passengers on many different dates.
BBC correspondent Gavin Lee said he understands some families on Majorca refused to accept an early return.
He said travellers were informed of the changes via emails and text messages.
At the moment it is unclear whether travellers in other parts of Spain could be affected. The airline told the BBC that it would issue a more detailed statement later on Thursday.
However, in a comment to the Reuters news agency, Jet2 said government quarantine rules had created confusion.
«What we need now is clarity and consistency from the government. We understand that this is a fast-moving situation, however the information we are receiving is contradictory and often comes with little or no notice,» Jet2 told Reuters.
Current government advice to holidaymakers in Spain is that there is no need to leave the country at this time.
It says travellers should follow the advice of the local authorities on how best to protect themselves and others, including any measures that they bring in to control the virus.
People returning to the UK from Spain have to self-isolate for 14 days.
'Confused and upset'
Some travellers have told the BBC that they have been left in the dark, because Jet2 has not confirmed which day they are now meant to return to the UK.
Simon Fordy, from Cumbria, is currently in Magaluf with his family. He is feeling «confused and upset» by the news, having spent almost £3,000 on an 11-day holiday.
Mr Fordy said the family is only five days into their summer break. He told the BBC he is now «constantly checking» his mobile phone, in case he receives word from Jet2 that the family needs to leave in the morning.
It is understood that several families in Magaluf have refused to accept an earlier return flight offered by Jet2.
The UK is advising against all non-essential travel to Spain, including the Balearic and Canary Islands.
It also removed Spain and its islands from the list of countries that are exempt from the 14-day quarantine rule, after Boris Johnson warned that there were signs of a «second wave» of coronavirus in Europe on Tuesday.
---
Are you a Jet2 customer? Have you been asked to come home early? Email haveyoursay@bbc.co.uk.
Please include a contact number if you are willing to speak to a BBC journalist. You can also contact us in the following ways: