DW Sports chain collapse threatens 1,700 jobs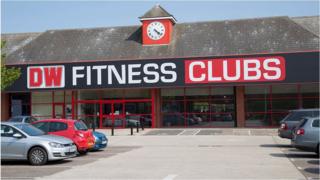 DW Sports, a gym and sports retailer, has said it will enter administration, putting 1,700 jobs at risk.
The company, founded by former Wigan Athletic owner Dave Whelan, operated 73 gyms and 75 stores across the UK.
All of its stores are to close, but DW said it would work with administrators to save as many gyms as possible.
Fitness First and its 43 gyms, which are part of the same group of companies, will not be affected, the firm said.
«As a consequence of Covid-19, we found ourselves in a position where we were mandated by government to close down both our retail store portfolio and our gym chain in its entirety for a protracted period, leaving us with a high fixed-cost base and zero income,» chief executive Martin Long said.
«The decision to appoint administrators has not been taken lightly but will give us the best chance to protect viable parts of the business, return them to profitability, and secure as many jobs as possible.»
DW Sports had already closed 25 of its stores, and the firm said its remaining 50 retail sites would «all be moving into closing down sales from today».
The DW Sports website will cease trading with immediate effect.
The company said 59 of its gyms in England and Northern Ireland have reopened, while 14 are in areas restricted by localised lockdowns and are closed.
Mr Long told the BBC in April that the firm's income normally totals around £15m a month, but that it had fallen to zero, overnight, while it still had a £3m monthly wage bill.
What's most worrying about the decision by DW sports is that its problems are far from being confined to itself: among non-food retailers, they're almost universal.
They've had to deal with months when lots of money was going out (high fixed costs like rent, rates and wages) and zero money was coming in.
And as DW's chief executive Martin Long points out, this government-ordered lockdown has made it «difficult for any business to manage without long-term damage».
That's the worry – that DW's misfortune may reflect that of most of the consumer-facing sector of the economy.
All retailers have been looking carefully at sales and costs since lockdown was eased and at whether any 'bounce-back' is strong and sustained enough.
Clearly for DW, founded in the 1970s as JJB, it isn't. Nor was it enough for any potential buyer to be prepared to risk taking over the business as a whole. It won't be the last retail business to exhaust options, come to the same reluctant conclusion and call in administrators.
The news followed Monday's announcement that HSBC is speeding up its 35,000 job losses and Friday's Byron Burger news it is axing 650 jobs and closing more than half its outlets.
The number of jobs being lost because of the coronavirus crisis is accelerating, with an estimated 150,000 redundancies so far.
Last week's bad news included 450 jobs disappearing at Selfridges, 650 at busmaker Alexander Dennis, 900 at Dyson, and 1,200 workers facing redundancy at the National Trust.
Other lay-offs announced during the pandemic have included:
Up to 5,000 job cuts at Upper Crust owner SSP Group
Up to 700 jobs at Harrods
About 600 workers at shirtmaker TM Lewin
1,900 jobs at Café Rouge-owner Casual Dining Group
1,000 jobs at Pret A Manger
1,700 UK jobs at plane-maker Airbus
1,300 crew and 727 pilots at EasyJet
550 jobs are going at Daily Mirror publisher Reach
Mr Long spoke out about the «limited support» DE Sports had.
«It is a difficult model for any business to manage through without long-term damage, and with the limited support which we have been able to gain,» he said.
«Having exhausted all other available options for the business, we firmly believe that this process can be a platform to restructure the business and preserve many of our gyms for our members, and also protect the maximum number of jobs possible for our team members.»