Coronavirus: Self-isolation payment for low-income workers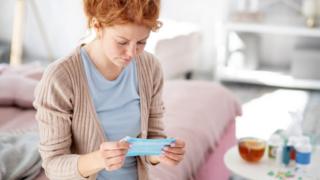 Workers on low incomes in parts of England where there are high rates of coronavirus will be able to claim up to £182 if they have to self-isolate.
From Tuesday, those who claim Universal Credit or Working Tax Credit and cannot work from home will be able to get the money – equal to £13 a day.
The benefit will be trialled in parts of north-west England first.
Greater Manchester Mayor Andy Burnham said the payment «goes nowhere near far enough», adding people need «full pay».
Employed or self-employed people who test positive for the virus are required to isolate for 10 days, so those eligible for the extra money will get £130.
But members of the household of someone who has tested positive, who must self-isolate for 14 days, will be entitled to up to £182, assuming they also qualify for the payment.
Anyone else who is told to self-isolate by NHS contact tracers and meets the qualification criteria will also be entitled to £13 a day – about the same as statutory sick pay – for however long they must self-isolate.
The payment, announced by Health Secretary Matt Hancock on Thursday, applies to benefit claimants who live in areas where there are high numbers of coronavirus cases.
It comes as the government said a further 12 people have died with coronavirus in the UK, taking the total number of virus-related deaths to 41,477.
There were a further 1,522 lab-confirmed cases of coronavirus, as of 09:00 BST on Thursday, up from 1,048 cases a day earlier. The overall number of people to have tested positive is now 330,368.
The England-wide scheme will begin with a trial in Blackburn with Darwen, Pendle and Oldham, where there have been tighter lockdown measures after a rise in cases.
If the payment is successful it will be «quickly» rolled out to other areas where there are lots of cases, the Department of Health said.
According to data published earlier this month, nearly 5.5 million people across the UK are now claiming benefits – an 81% increase since March.
«Self-isolating if you have tested positive for Covid-19, or have come into contact with someone who has, remains vital to keeping on top of local outbreaks,» said Mr Hancock.
He said the payments had been introduced after feedback from England's contact tracing programme, NHS Test and Trace, and would mean people «don't lose out by doing the right thing».
The health secretary told BBC Breakfast that NHS Test and Trace was now reaching «almost 80%» of contacts and the extra support will help «get the last few percentages».
Latest figures for the week to 19 August suggest 72% of people who tested positive were reached by NHS Test and Trace. Those people provided details of more than 24,000 close contacts and just over 75% of those were reached.
The data also showed turnaround times for coronavirus tests has increased, with the average wait for results now more than 24 hours for those done at mobile units and testing centres. The government said the rising number of tests being done had created a backlog, which the service was working hard to catch up on.
England's NHS Test and Trace service is now three months old – plenty of time to get established and to be judged on. So how is it doing?
The key goal was to achieve reach 80% of people who test positive and 80% of their contacts. It has consistently fallen short of that – but only just.
Another target is to ensure test results are processed quickly. The fact those waits are getting longer is concerning.
The initial design of the service also looks questionable with too much emphasis on the national contact tracing unit rather than local teams. That is now in the process of being rectified with councils establishing their own dedicated tracing teams.
But, at the end of the day, the true test of the service – and the wider government's response for that matter – is whether the virus is contained.
There have been some signs of an increase in infections in recent weeks – although part of that is likely to be down to extra testing as the more the look the more you find.
And if you look at our near neighbours, such as France and Spain, the UK seems to be doing well. Perhaps the fairest thing to say is things could certainly be worse.
Greater Manchester Mayor Andy Burnham said he had been «calling for weeks» for the government to provide financial support for those asked to self-isolate.
«I am pleased they have at last acknowledged this issue but am sorry to say this move goes nowhere near far enough.»
«The health secretary has already said that he couldn't live on Statutory Sick Pay at £95 a week. So how can an announcement like this work?»
He added that it would not provide the support many workers in Greater Manchester needed to co-operate with NHS Test and Trace and called for the government to enable people «to self-isolate on full pay».
Mohammed Iqbal, Labour leader of Pendle Borough Council in Lancashire, told BBC Radio 4's Today programme that while financial support was welcome, £13 a day was «a slap in the face».
«I've spoken to people who have tested positive who I have persuaded to stay home and the kick back from them is to say… 'who is going to put food on the table for my wife and children?', and that is a question we have been pushing back to government for a few weeks now,» he said.
People will need to provide evidence – including, for example, proof of a positive test, a message from NHS Test and Trace and a bank statement – and the money will be provided within 48 hours, the government said.
Mr Hancock said the aim was to get money to people quickly – at the start of their isolation «rather than afterwards».
The government said checks will be undertaken to make sure people who apply are unable to work from home. The payment will not reduce any other benefits that a person may already receive.
Scotland's First Minister Nicola Sturgeon said her government had encouraged UK ministers to put support in place – but that more detail was needed about how it would be introduced.
«It seems to me to make sense for [payments] to be administered through existing welfare or benefits systems, and obviously we are seeking to understand what the financial consequential position is for the Scottish government,» she said.
Universal Credit payments have been increased by £20 a week for the period between April 2020 and March 2021 due to the pandemic, but Work and Pensions Secretary Therese Coffey has rejected calls from campaigners to also scrap the benefits cap for the same duration.
The benefit cap limits how much any one household can receive in benefits.
In other news:
Will the new payment help you? Share your thoughts by emailing haveyoursay@bbc.co.uk.
Please include a contact number if you are willing to speak to a BBC journalist. You can also get in touch in the following ways:
If you are reading this page and can't see the form you will need to visit the mobile version of the BBC website to submit your question or comment or you can email us at HaveYourSay@bbc.co.uk. Please include your name, age and location with any submission.